How to send an SMS online
One of the methods available to a Notifyre user is to send an SMS text message through the Notifyre secure online dashboard using the Quick SMS feature.
You can send SMS via the Notifyre dashboard on your computer, smartphone or tablet.
Before sending an SMS via the Notifyre dashboard, you will be required to verify the phone number attached to your Notifyre Dashboard.
To verify your phone number:
Login to the Notifyre Dashboard
Select "Settings"
Select "Account"
Select "Verify Number"
A verification code will be sent to your nominated phone number
Enter the verification code into the field and click "Verify"
A verification badge will be visible next to your phone number once it has been verified
To send an SMS online:
Login in the Notifyre Dashboard
Select "SMS" on the left navigation
Select "Quick SMS" from the dropdown menu
In the From SMS Number field: Select from the dropdown menu "Shared SMS Number" or if you have purchased a dedicated Virtual Mobile Number, select "My SMS Numbers". Please see Virtual Mobile Number for more information on how to add a SMS number to your Notifyre account
In the To SMS Number field: Enter the destination mobile number, contact name or contact group name and select or select "Enter" or "Tab" on your keyboard to add. You may enter multiple mobile numbers, contacts or contact groups to send an SMS Broadcast
In the Message field: Enter the body SMS message text. Please see SMS Character Limits for more information
Click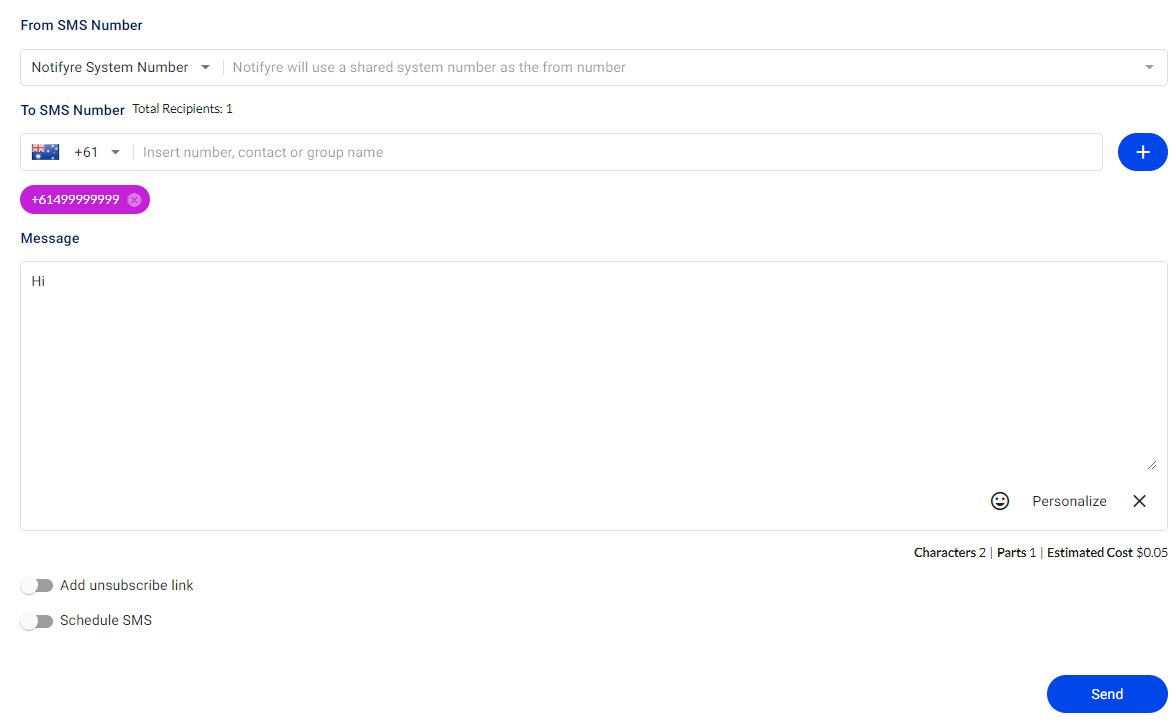 Additional options are also available when sending an SMS online using the Notifyre 'Quick SMS' feature:
SMS Opt-Out - You can add an unsubscribe link to an SMS by simply toggling ON this option so it turns blue (toggled OFF by default).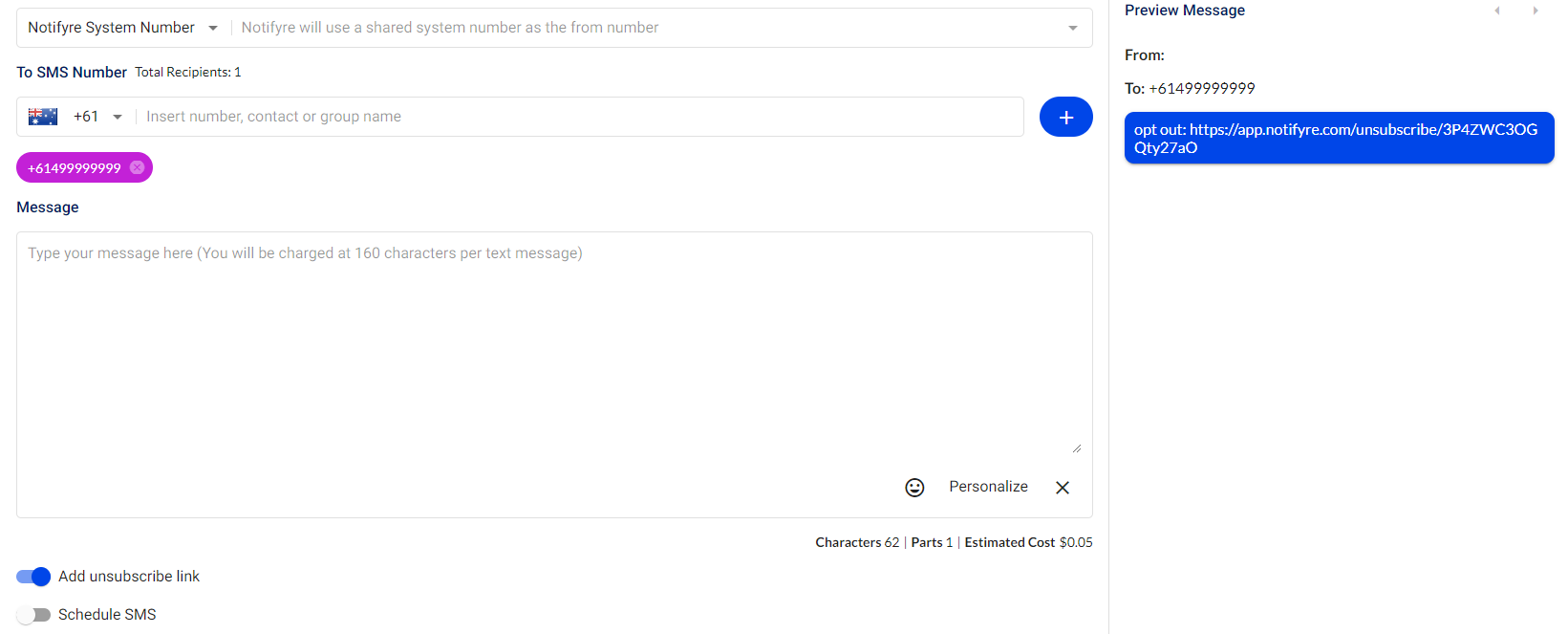 SMS Scheduling - You can schedule an SMS to send at a specific date and time. To schedule an SMS, simply select the toggle ON so it turns blue (toggled OFF by default) and select the date and time by clicking . Scheduled SMS sends can be viewed and cancelled via SMS Activity.

SMS Personalisation - You can add custom personalisation tokens (mail merge) to your SMS sends. Simply click "Placeholder" and select the personalisation token you wish to use. The personalisation token will automatically populate when you send an SMS to a contact or contact group.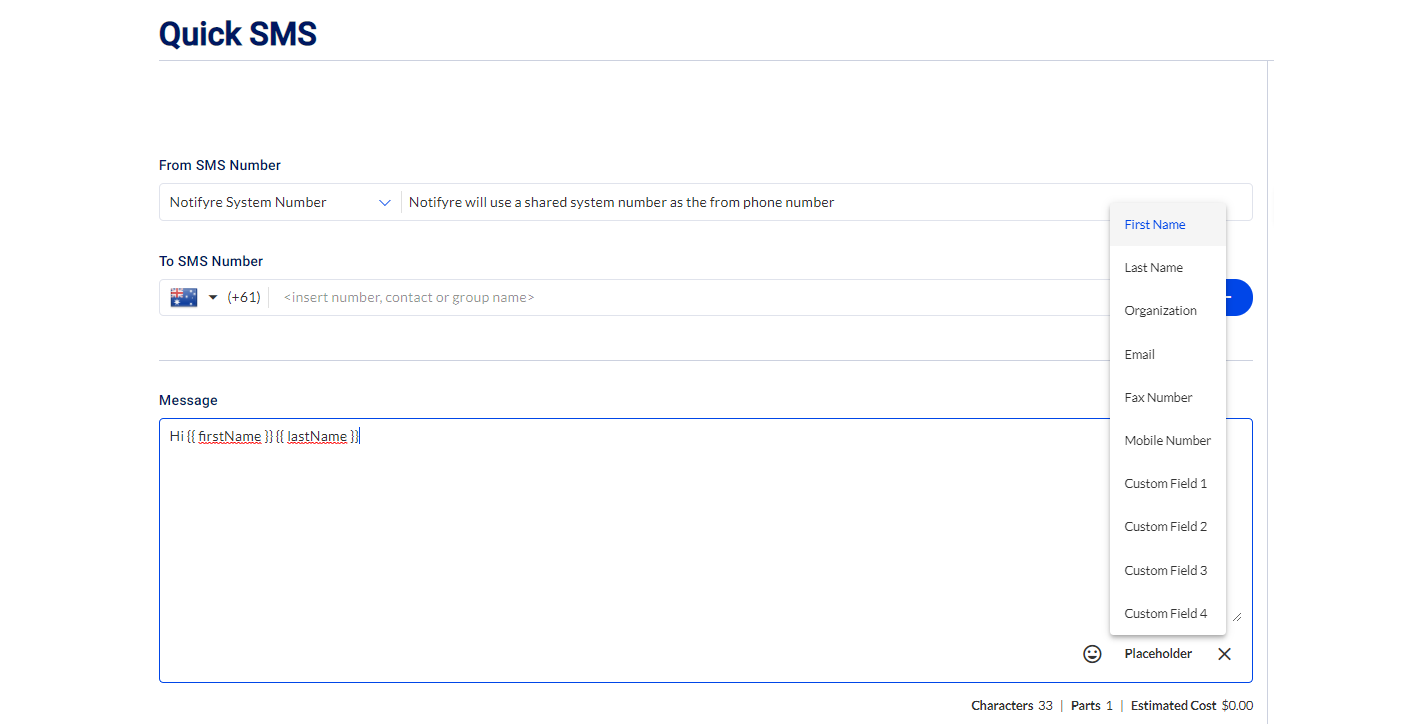 Insert emoji - Notifyre supports the use of unicode so you can add an emoji to your SMS send. Simply click to view the full list of emojis that you can add to your SMS. Click on the emoji to add it to the message.