How to create a custom fax Cover Page
Notifyre users can create multiple customised Cover Pages that can then be used when sending faxes. Custom Cover Pages are saved in the user's account and can be accessed as needed. To create a customised fax Cover Page:
Login to the Notifyre Dashboard
Select "Fax" on the left navigation
Select "Cover Pages" from the dropdown menu
Under "Create Cover Page" Click
Enter a "Cover Page Name"
Use the Rich Text Editor to create your Cover Page
Use the Preview button to view your Cover Page
Click "Save". Your Cover Page will now be visible under "My Cover Pages"

Personalising your Cover Page
Once you are in the Rich Text Editor
Click on the "Placeholder" dropdown menu
Select a personalisation token from the list e.g. First Name, Last Name or Email
Once the personalisation token has been added to the Rich Text Editor of your Cover Page click "Save"
The personalisation token will automatically populate when you send a fax with the cover page to a recipient in your Contacts.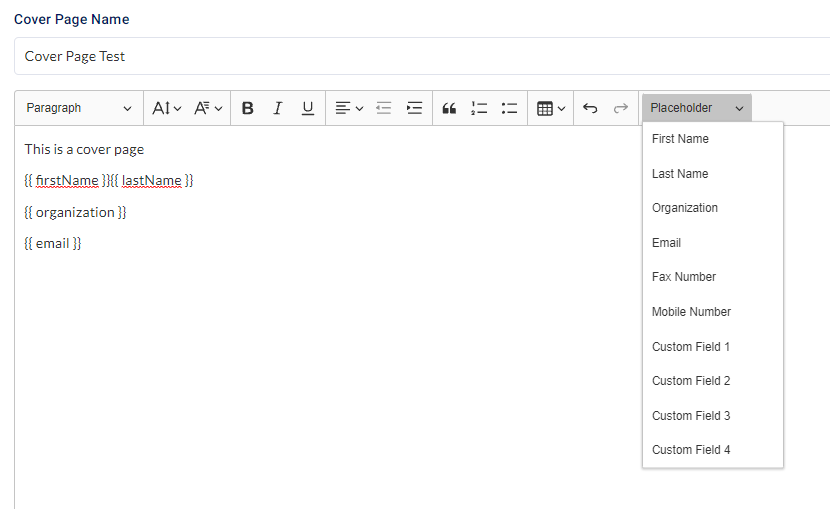 Additional options are also available once a Cover Page has been created:
Once you have saved your Cover Page
Select the
Set as Default – Sets the selected Cover Page as default. When you toggle "Include Cover Page" ON in Quick Fax, this will automatically select the Cover Page saved as default.
Edit – Allows you make changes to a saved Cover Page.
Clone – Allows you to create a duplicate copy of the selected Cover Page to then edit.
Delete – Allows you to delete the selected Cover Page.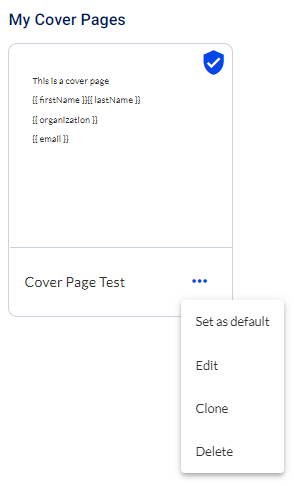 View related articles: