How to setup and manage Two-Factor Authentication
Notifyre users have the ability to setup two-factor authentication to add an extra layer of security to their Notifyre account.
Login to the Notifyre Dashboard
Click profile drop down (top right corner of dashboard)

Select "Profile

" from the drop down menu

Select the "Security" tab at the top of the screen


Enabling two-factor authentication
To enable two-factor authentication, you will need to install the Google Authenticator™ Mobile App on your mobile device.
Toggle ON "Enable 2 Factor Authentication"
Download the Google Authenticator™ Mobile App from the App Store
Once downloaded, open the App on your device and select "+"
Select "Scan a QR Barcode"
Using your device, scan the QR barcode that appears on your Notifyre Dashboard
Enter the 6-digit code displayed on your Google Authenticator App into the code field
Click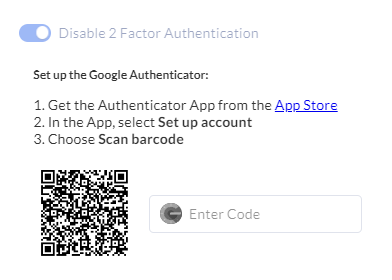 Disabling two-factor authentication
Toggle OFF "Disable 2 Factor Authentication"
Click
Enter your Notifyre Account password
Click "Save"
Click "Close"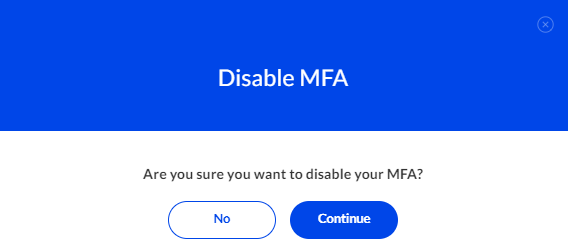 I purchased a new mobile or replaced my existing mobile device
When purchasing a new mobile or replacing your existing mobile, you can transfer your account details via the Google Authenticator™ Mobile App to your new mobile device. This ensures you do not lose the two-factor authentication attached to your Notifyre Account.
Open the Google Authenticator™ Mobile App on your old mobile
Tap the three dots "Menu" icon in the top right of the screen
Tap "Transfer Accounts

"

Tap "Export Contacts

". This will create a QR code to export your accounts

Tap the Notifyre Account you wish to transfer
Tap "Nex

t"

Scan the QR barcode with your new mobile device
Tap "Done

" on your old mobile

Your Notifyre account two-factor authentication details will now be available on your new mobile device
I lost my mobile or my mobile was stolen
If your phone has been lost or stolen, please contact the Notifyre Support team to reset your security settings. You may then re-enable two-factor authentication as required.