How to send a fax online via Notifyre app
Using the Notifyre secure online dashboard, one of the methods available to send faxes is via the Online Fax feature. Here, you can send faxes from your computer, smartphone or tablet.
Before sending a fax via the Notifyre dashboard, you will be required to verify the phone number attached to your Notifyre dashboard.
To verify your phone number:
Login to the Notifyre Dashboard
Select the drop-down menu under your Account name (top right corner)
Select "Profile"
Select "Verify Number"
A verification code will be sent to your nominated phone number.
Enter the verification code into the field and click "Verify"
A verified badge will be visible next to your phone number once it has been verified
To send a fax online:
Login to the Notifyre Dashboard
Select "Send" on the left navigation
Select "Fax" from the dropdown menu
In the From Fax Number field: Select from "Notifyre System Number" or "My Fax Numbers" 
In the To Fax Number field: Enter the destination fax number, contact or contact group name and click or select "Enter" or "Tab" on your keyboard to add. You have the option to add multiple fax numbers, contacts or contact groups.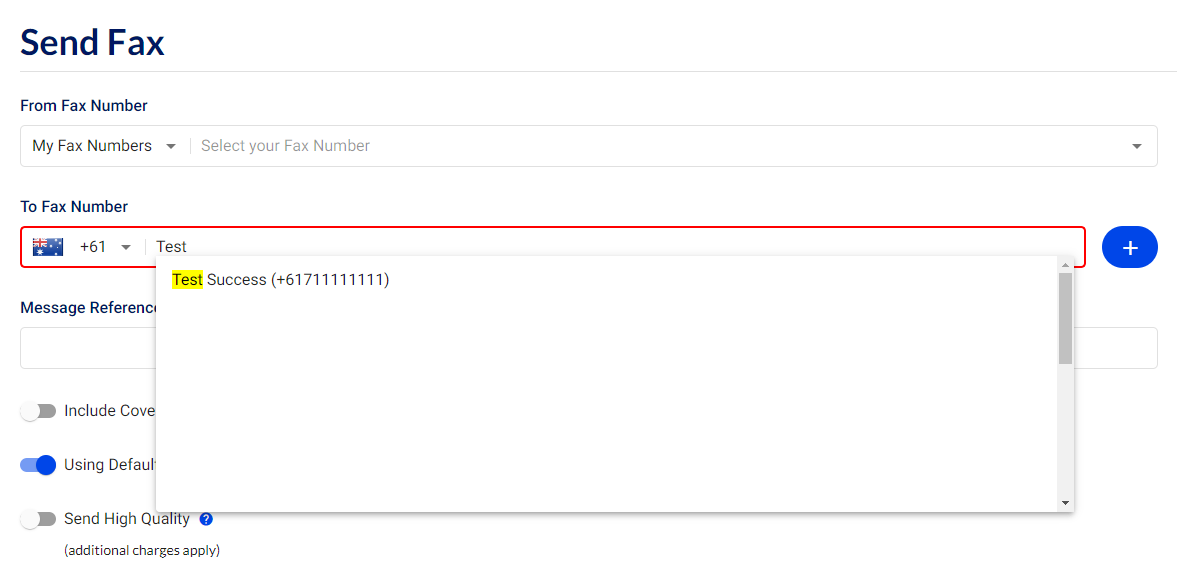 To attach a file, you can drag and drop files directly from your computer or select "Select File" to upload your document.
Click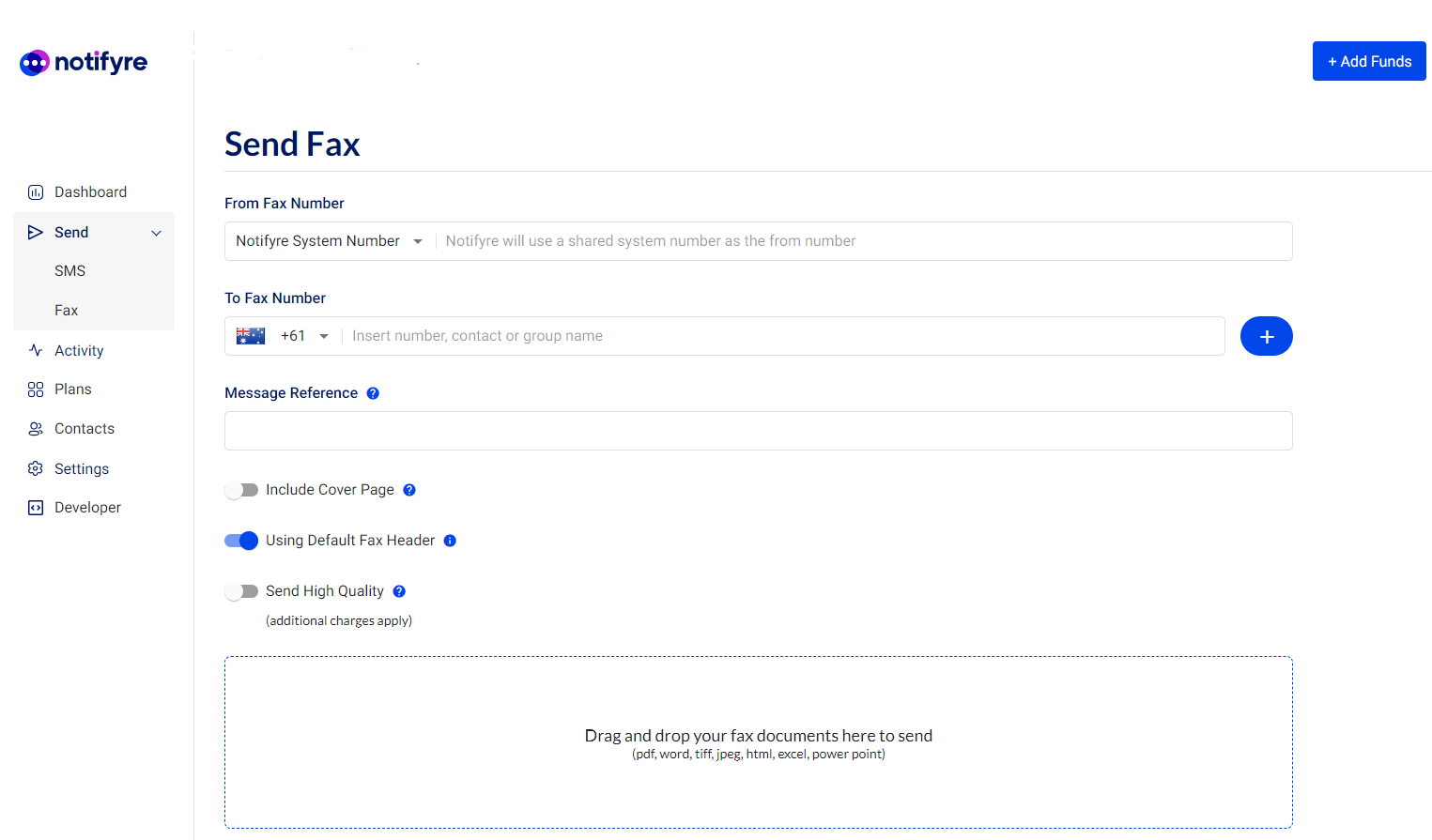 Additional options are also available when sending a fax online using the Notifyre 'Fax' feature:
Message Reference: Enter text to identify the fax sent in your 'Sent Activity' (25 Characters limit).
Include Cover Page: You have the option to send a fax with a cover page. This is switched OFF by default. To turn this ON select the toggle so it turns blue. Then select the cover page provided or create a custom cover page. See: Fax Cover Page.
Send High Quality: All faxes are sent in Standard Quality (200 x 98 DPI) by default. To enable High Quality (200 x 196 DPI), toggle this setting ON (blue toggle turns high resolution 'ON'. See: Managing fax sending quality.
Attach File: Notifyre is compatible with cloud storage solutions including Google Drive®, Dropbox® and OneDrive®. You can upload multiple files using this feature.
Note: To upload files stored on Google Drive®, Dropbox® and OneDrive®, you will be required to sign in to your cloud storage account.
Re-Arrange Files: You can re-arrange the order of the attached fax pages by dragging and dropping files up or down. The attachment displayed at the top will be faxed first, followed by any additional page/s within additional attached files (in the order attached).
Schedule a Fax: You can schedule a fax to send at a specific date and time. To schedule a fax, simply select the toggle ON so it turns blue (toggled OFF by default) and select the date and time by clicking . Scheduled fax sends can be viewed and cancelled via Fax Activity.